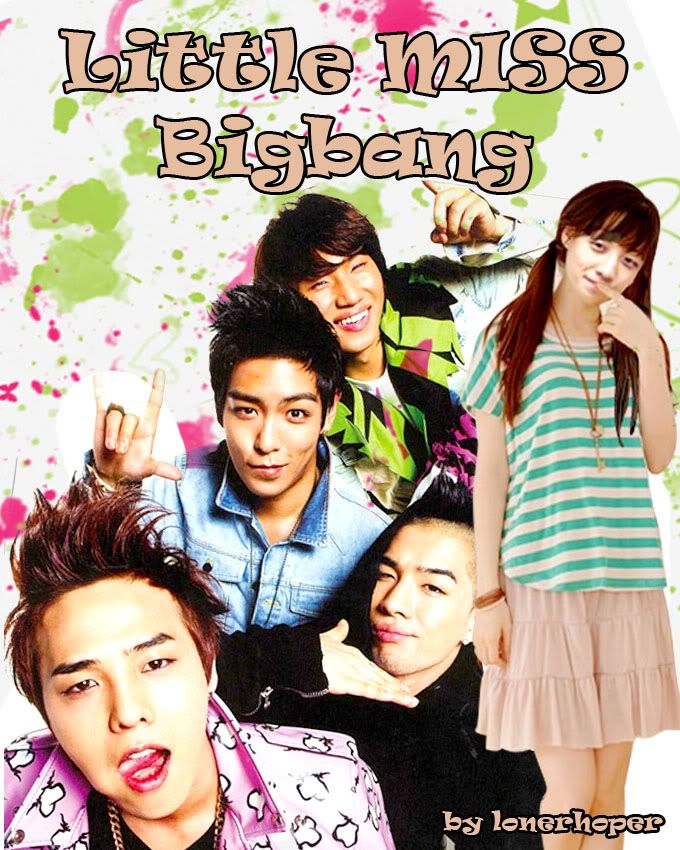 Title: Little MISS BigBang
Author:
lonerhoper
Beta/Co-author:
ybaety
Rating: PG


Pairing: GRi, TopRi, BaeRi, DaeRi


Fic Type: series


Genre: comedy, friendship, fluff, romance(?)



Summary: When SeungRi became too much of aa LADIES man, Karma became a huge bitch when it decided to play tricks on him. Out of the blue he woke up being on the other side of the spectrum and became a "girl" with no known idea how to turn back. Jiyong with his random ideas tries to help him cope up with "seugnri's problems dealing not just trying to get back to being a HIM but also with dating, pms, and random girl stuffs seungri never thought he'll have to deal with. As long as this keeps between the two of them then things will go smoothly right?

not exactly. Especially when SeungRi carries with him an unusual pheromone that makes guys like him, making him smell like what each guys like for their ideal woman and makes each guys heartbeat faster than usual.

And sadly....youngbae, seunghyun and daesung are not an exception.



Disclaimer: needs a huge stretch of imagination to think seungri being an XX chromosome.



AN:I am more active in AFF and since i was hoping to put this in LJ when i finish this fiction but AFF is down right tnow >__< and i want to give justice to my beta BIGBANG_ so i decided to post this one too here to share chapter 1 to 3... =) please enjoy.. =)..
and argh, LJ won't allow long chapters so boo...

Chapter 1a, Chapter 1b, Chapter1c chapter 2a, Chapter 2b Chapter 3a, chapter 3b
Chapter 4 , chapter 5a, Chapter 5b ,Chapter 5c, Chapter 6 Chapter 7, Chapter 8a
Chapter 8b, Chapter 9 Chapter 10a Chapter 10b Chapter11a Chapter 11b
Chapter 11c Chapter 12a , Chapter 12b Chapter 12c Chapter 12d Chapter 13a
Chapter 13b , Chapter 14a , Chapter 14b
PS please love comments, what ifs...makes me want to write more... =)
Chapters:
Nonbannered "realizations" Chapter 21-26(end): No banners:
Chapter 21
,
Chapter 22
,
Chapter 23
,
Chapter 24
,
Chapter 25
,
Chapter 26
A/N for this fic: This is my FIRST fic in BigBang as well as in Kpop, so I pretty much have no idea in terms like hyung,ssi, senior, junior..so please forgive me in that. As well as my mistake of mixing up Taeyang and Jiyong's ages...
yes I mistakenly thought Jiyong's older than taeyang..so for that I'M SORRY...please bear with me even up until chapter 9,
i'll edit the content after receiving the BETA-ed version from the my great Beta reader
vvipforseungri
Fic List/Chapters:
When 24 yr old Gd magically became a baby....fluffiness and tantrums ensues...

Title: When GD=Baby Literally
Characters: Bigbang, GD (main)
(cameo: YG, Teddy, Kush, Kwon Twins, Bom (tiny of CL), Dongwook (tiny)
Pairing: GRi
Genre: Comedy,AU (takent from reality with added twist), Fluffy
Rating: General/PG for slight cursing
Description
Summary: Kwon Jiyong is the hottest leader right now, if JGS is considered as the Asian Prince and Kim Heechul as the AB big space star…Jiyong is the bethoven of idol world. Jiyong churned up hit after hit not just for himself but for his groups and other artist as well. From a humble young trainee to a highly in demand artist, he really hit it big. Musical prodigy, hallyu phenomenon and endorser king pin, all came too fast to his young age of 24. But something was off from what appears to be his perfect little kingdom, his attitude. The fame changed him and later on became one of the most arrogant party pumping hot blood, but nobody can put stand up against him…not even his big boss YG, for his gift is something that somehow made him invulnerable. Maybe Big G-dragon should've watched spider man before the fame came so he could've encountered Uncle Ben's famous line "With great power comes great responsibility"
They say you can't teach old dogs new tricks…..
Then what if you force an old dog back to being a puppy….well in this case a 24 year old party dragon to a whiney 3 year old boy…
And exactly that's what happened.
Now 3 year old Jiyong needs to learn 7 vital lessons within 30 days to take away the curse…will he be able to do this??? and how on earth will 4 bandmates take care of him??? from bachelors to instant baby with daddies...
Warning: I'm not a native English speaker so forgive my mistakes…Un-beta work….
COMMENTS ARE LOOOVEEEED...
(
Click here to see chapter links =)
Collapse
)